The Miyabi Chutoh is an entrance from Henckel's into the Japanese style lines of knives. Picture from Zwilling :
A few specifications :
steel is VG-10 at 60 HRC
190 grams
very handle heavy balance
blade is 0.075" thick
complex chisel grind
edge is less than 0.015" thick, 18.5 (5) degrees included
More on the grind, it has a low convex grind which transitions into an edge which is right chisel ground about 10:1 (the right bevel is ten times as wide as the left bevel).
Ad copy from Zwilling :
Quote



Fascinating blade aesthetics because of the multi-layered steel with its attractive Damask design.

Japanese cuisine values aesthetics highly. These are the knives that complement the demanding presentation of Japanese dishes.
The blades are made from top-quality steel with 65 layers and impress with their fascinating Damask design. The specific blade construction allows for the high hardness and therefore outstanding sharpness and cutting edge retention of the MIYABI 7000D knives.

Steel with 65 layers and a core of top-quality CMV60 stainless steel, containing cobalt, molybdenum and vanadium for additional strength and durability of the blade. The high carbon content allows for a hardness of approx. 60 Rockwell and therefore exceptional sharpness and cutting edge retention. The final sharpness is applied by the original Japanese Honbazuke honing that is carried out by skilled master craftsmen using a fine whetstone and elaborate hand crafting.

- Blades made from steel with 65 layers and Damask design.
- CRYODUR® blade, hardened in a specifically developed process (including ice-hardening at -196°C) for its extreme hardness.
- Symmetric blades with an ultra-sharp Honbazuke honing.
- The traditional "D-handle" allows tireless working in all cutting techniques.
- Solid and easy-care Micarta handle in fine wood texture, made from a multi-layered linen/resin compound in combination with stainless steel.

Fascinating aesthetics of the blades because of the multi-layer steel with an attractive Damask design.

A bit of background on why I bought this as it obviously is a highly aesthetic based design. It was a demo model in a local shop which had visible edge damage so I got it for a heavy discount. I have had this knife for quite some time and recently took it out and used it for four straight weeks again as I intend to make a gift of it and wanted one last run before I wrote it up. I will say that in that month I struggled to find anything to really criticize about the knife aside from some personal preference issues.
General silliness
:
Now before I did much kitchen work with it, like all cutlery samurai's I did a bunch of utility cutting :
which included shredding a large amount of cardboard :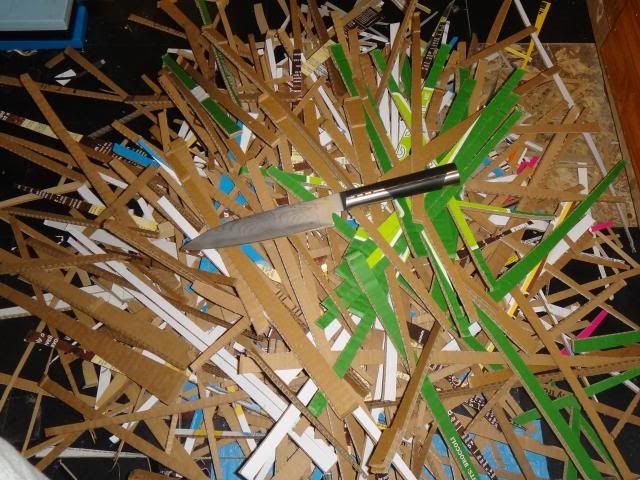 and I have talked about this before ( [
www.cliffstamp.com
] ).
In short, I found that it compared well to VG-10 blades in general, often a little ahead of some knives from Spyderco which could be because it is slightly harder, or could simply be random scatter as I only have one of these and a lot of Spyderco knives. In general though the data doesn't show it is significantly better, it just performs as you would expect for an ATS-34/D2 type steel.
Handle :
The handle is one of the few things I can actually say something negative amount, but it is a small thing and there are many positives. At the front of the handle there are these little square cutouts which I would assume are there for a visual contrast - which they make. However they are abrasive and if you put your finger tips there (as I do) you can feel them and it is slightly annoying.
Aside from that, the handle is very well shaped for comfort and security. It is a bit smooth, so I would want a different texture for working very quickly with greasy foods, but it is actually asymmetric shaped to fit your hand and it tapers towards the rear for security. In terms of general ergonomics, aside from those little boxes, all edges are fully rounded and the knife is comfortable in any manner of grips.
General use :
What I found in general was not overly surprising. Given the fact it is a medium sized blade, sort of like a small and narrow chef's knife, it had a very wide scope of work. I could not only use it for dicing and slicing up a potato for example, it would easily be pressed into use peeling it as well.
Now can it replace a paring knife - well it is a lot heavier and more awkward to turn, but the difference isn't that great. I would say for example that comparing it to a Herder paring knife would be like walking a km or so in the summer with sneakers vs work boots. In contrast, a traditional larger chef's knife for peeling tasks would be like trying to do the same with snowshoes.
On smaller cuts of meat and similar work was where I could appreciate why someone would want a knife just of this size as it is easier to use/manipulate than a larger chef's knife working on things like chicken breasts :
+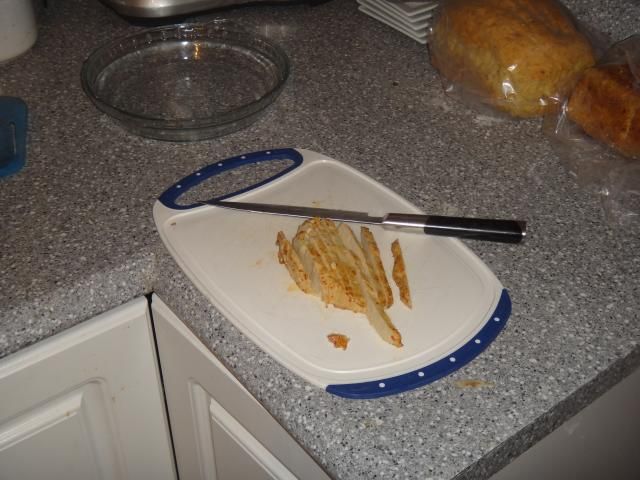 and common fruits and vegetables :

and small loaves of bread :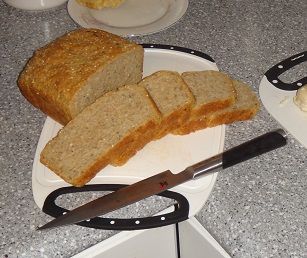 But as I often work on larger foods, buying whole foods, I found often I would generally prefer a full size chef's knife, especially when working on melons, larger roasts, or even just full size loaves of bread :
But again, this is showing nothing more than how a mid sized knife of this type, while having a wide range of use, does at some point start to be inefficient no more than trying to peel an apple with a 10" Chef's knife.
Grind :
There are two things about the grind which are a bit different than a lot of knives :
I tried some comparisons on the convex grind to look at binding in sticky foods. At times I could see a difference and it is clear why physically there should be one (as a convex grind breaks the contact point in cutting, a flat grind doesn't), but if this blade hit a sticker potato then it could stick while a flat grind did not. In the end there was enough of an advantage so that I could see why someone could get enamored with it but in order to really maximize this effect you also have to make sure that the blade polish is high as if it is rough then you will get very high friction on that anyway.
The asymmetric grind I could not really see any practical difference in use. Yes if I took this compared to a more common v-grind and did side by side cuts on a carrot I could maybe feel a small difference. But as soon as stopped doing that kind of controlled comparison it was hard to tell if there was a difference or not. I think this effect is simply so small that you need a lot of skill and be looking at very small differences to see it in use. Hence maybe why it gets strongly praised for things like sushi cutting.
Steel :
After working with this knife more exclusively in the kitchen I can gain an appreciation for it, and recent trials using VG-10 vs many other steels also shows the same. It is a fairly interesting steel in that it will show an increase in edge retention over the common 420 class steels but it isn't that dramatic that it is so hard to grind that it requires specific hones or a lot of skill/experience. I was able to maintain it in the kitchen with a 3000/8000 grit basic Henckel's waterstone. That being said though, I don't think it offers anything over AEB-L because when I did sharpen it once a week it wasn't due to wear, it was because parts of the edge would have lightly impacted. If I could pick, I would choose AEB-L or 14C28N, but based on the performance of this knife - I can see how the difference isn't likely to be dramatic and if you work to a lower sharpness, use more coarse finishes, then this steel might give an increase in performance over the increased apex stability steels.
In regards to corrosion resistance, I never rinsed it until it was necessary and I never noticed any issues with spotting or corrosion.
Weight and balance :
This to me was the reason why as much as this knife excels in many areas, is the main reason why I don't use it that much. It is simply very heavy for its size and the balance is very handle heavy. Now it might seem a bit odd for me to say, given how I use very large knives often, but the high weight here has no real purpose. It has the same weight as a much larger chefs knife and it is all in the grip where it just feels odd to me compared to a more neutral, or even Japanese style blade heavy balance. The thing to realize in general is that when using the knife the balance isn't actually how it is held in hand, but it should be designed when the knife is in contact with a cutting board (for knives like this) and thus a more neutral balance, or even blade forward is generally more ideal.
In short :
This knife is expensive and it is clearly designed to achieve an aesthetic standard. It also has a lot of weight for its size and very handle heavy balanced. These two things aside, it performs very well as a mid size kitchen knife.