---
Cutlery Performance Comparisons
---
This page collects comparison work performed during various knife reviews. The sections :
Specifications
The performance of a knife is influenced by the steel, heat treatment, blade geometry, and handle shape and texture. As much detail is given about these aspects as possible as they allow conclusions to be drawn not only on the stock performance of the knife, but as well on the possibility of performance after modification. Note that convex edges can be specified in detail along with v-ground and hollow ground bevels. It just takes more than one point of reference to specify a curve.
Knife balance is one of the critical aspects of knives, especially the larger and heavier blades and it is characterized by the center of mass, or static balance, and the sweet spot location and versatility. The sweet spot is where the blade can be impacted with little hand shock. This subject has been discussed in detail by George Turner, and Possum has noted it in detail in an article on modifing a khukuri to improve its balance.
Sharpness
The current quantitative measures of sharpness used in the review are push cutting Esprit baisting thread (which breaks at 750 (50) g) and slicing light cord under a specific tension. The current cord used is Berga spinning thread. Unfortunately the cord used for the slicing measures of sharpness has changed over the years as the current cord simply became unavailable.
The sharpest blades ever tested using the above two methods were Laser Super Platinum razor blades which constantly scored 30 (4) grams on the light thread, and 1.9 (4) cm on 1/4" poly under a 200 g load.
The results for a sample of production and custom knives is given in the following table. The cords used under various were :
48 lbs hemp, 200 grams of tension
light cotton, 200 grams of tension,
light cord, 110 grams of tension,
Berga spinning thread, 40 grams of tension.
Note most of the subjective tests of sharpness can be quantified with a little effort.
Static cutting ability
The foundation of the discussion of the nature of the influence of geometry on cutting ability was induced by Mike Swaim on rec.knives. This was through comparison cutting on oak dowels, on several occasions, hemp rope with fillet blades, more hemp with a Puma White Hunter vs many other blades, an extensive materials evaluation of combat/utility knives, and similar work with several similar styled knives from A. G. Russell. Joe Talmadge also had two benchmark commentaries in How to make the SRK perform and How to make the Benchmade Axis perform which showed how changing the angle and grit at the same time combine for a very large influence. Recently the influence of micro-bevels was explored cutting thin plastics by ColoradoDave on Bladeforums.
A stock test for shallow cutting ability personally used are straight push and two inch draw on 3/8" Manila rope with the maximum force during the cut taken as the measure of the cutting abilityr4. The following table shows the performance, usually with the stock edges from the maker/manufacturer unless the knives were previously used, check the reviews for full details. They are sorted by the combined performance on the push/slice :
The serrated blades are unable to do bush cuts as the points of the edge keep the scallops off of the cutting boards. For the other blades both measures of cutting ability are combined and used to sort them by rank. Some blades showed little to no aggression on a slice and thus had the same cutting ability either way. It is common perception that a high polish means no slicing abitility but the above clearly shows it is possible to achive simultaneous high scores in both types of sharpness.
Moving past edge angle, whittling woods of various types will show the influence of the cross section of the primary profile. The ratio of the distance from where the blade first makes contact with the wood to the distance between the index and pinky fingers is also a factor. If the hand is eight centimeters across and the sharpened edge of the knife starts four centimeters in front of the center of the index finger, there is a 4/8 = 50% leverage disadvantage, meaning that 50% more force has to be applied to make a specific depth cut than is necessary.
The force used influences the dependenace on geometry because deeper cuts present more of the profile to the wood. Most stock comparsisons cuts are made with maximum force (75 lbs). Cuts are taken on various days over a few weeks. to eliminate skew due to physical variations. Some reviews use various types of wood to illustrate that influence. The performance of some blades on 1.5 x 5.5 centimer hardwood birch flooring and baswood dowel cutting to form a two inch point with stops every 3 cuts for three minutes to keep the force at mear maximal levels is presented in the following table :
On the basswood there is a large gap between the blades near the top and the ones that follow at the nearest closest rank. This is a sweet spot where the blades have the ability to just push directly through the wood. The performance gaps are not as extreme on the birch flooring because the hardwood is much wider and harder and even the better blades can't just push right through the wood. This shows the influence that both types and even sized of wood can make on comparitative rankings as while the order of the ranks says the same, the magnitude changes.
The influence of geometry can also be seen by splitting the same piece of birch hardwood which also removes the personal influence of maximum strength. The blades are rocked into one end until the wood starts to split and the maximum force is recorded. A thin and acute edge is required to start the cut efficiently however if the blade is too thin the wood can bind heavily. The larger blades and axes would of course chop split the wood easily and it is more efficient to just give most of the knives a light pop with a baton to split the wood with the smaller blades it is used here just as an illustration of binding forces and would correlate well for example to slicing thick vegetables.
The amount of force used can also significant influence the performance and as a general rule the harder the force the more the performance will be dependent on the primary grind and thus the edge thickness whereas in low force the cutting ability will be most strongly dependent on the angle. These aspects are noted in the following table which shows various knives compared to a Mora #1260 (which is set as rank 10) on various pieces of pine, fir and other soft woods using both light force (10-15 lbs) and very heavy force (75-100 lbs).
Wood roughing ability vs the #1260 Mora

| | |
| --- | --- |
| | |
As wood is highly variable due to density and grain and extent of seasoning, the table shows the average result of ten splits which reduced the the standard deviation in the mean to below 10 percent to allow a coarse ranking. Of course almost binding material can be used to show geometrical influences on cutting ability and the rankings tend to be similar as they all depend on the same aspects. Some are more sensitive to edge angle, some edge thickness and some on total blade profile. Also shown is press cutting television cable on a piece of birch hardwood. In cutting the cable it is necessary to use one smooth and forceful motion as otherwise the center copper core can twist around the edge of the knife and increase the chance of damage.
Chopping
Chopping examines a blades deep cutting ability as penetration can be two inches deep or more with large blades on soft woods so the entire blade profile influences performance. Chopping power is also dependent on the mass and balance of the knife and the handle ergonomics and security. There are two main criteria raw penetration and fluidity. Penetration can be determined by measuring the depth of a chop or comparing chop ratios for a stock piece of wood. Fluidty can be quantified by measuring the time or examining fatigue. Vibration transmitted to the hand also needs to be considered. Mike Swaim did a number of chopping comparisons including comparing knives, khukuris, machetes and saws which was later updated and similar work done on other machetes, khukuris and a small axe. Based on this he started thinking about the performance in terms of the sweet spot and how to estimate the performance from the design characteristcs as a whole .
In the reviews knives and tools are compared for chopping ability on various types of wood are they are all best suited by specific geometries. When the knife has a large performance disparity in soft and hard woods it is explored in the review in more detail. Most of the reviews for larger blades use the Wildlife Hatchet from Gransfors Bruks as a baseline for comparison as it is inexpensive, easy to obtain and a quality benchmark for medium density woods. Some blades work best with heavy chops while others are made to work best with a light and whippy motion and can chop better on springy branches than the hatchet while being out cut on the thicker woods. The smaller blades and folders mainly use the Mora 2000 for comparison. The wood used is mainly pine, juniper, spruce and less frequently birch and oak. The wood cut is limited to the size of wood that the blade could clear naturally and thus only one notch was used.
As a critical point, the chopping efficiency of most blades is very sensitive to wood size. Penetration is strongly correlated to the size of wood and if the cuts are not deep enough to allow a notch to be cleared directly either extra swings must be taken to enlarge the notch or multiple notches used. In general the penetration achieved is directly inversely proportional to the wood size. This influence can be so significant that even though a bowie can match or exceed the performance of hatchet on small woods, on large wood the hatchet can pull ahead many times to one as it always gets the same level of penetration on wood larger than the bit width. Assuming that the hatchet is just able to open the necessary notch width, the following effect on efficiency will be seen on blades with a long area of contact as they move to larger woods :
Adjustment factor for performance on large wood

| Notches needed | Penetration Rank | Performance loss (%) |
| --- | --- | --- |
| One | 90-100 | None |
| Two | 40-90 | 0.66 |
| Three | 20-40 | 0.33 |
| Four | 10-20 | 0.20 |
| Five | <10 | 0.13 |
There is a range given for the rank as generally if the performance is just a little lower it is more efficient to work with the higher notch pattern and use a few more extra hits in the beginning to open the notch instead of adding another notch to the cut. However this requires a lot of skill as unless lines are followed exactly progress will be nil. Some blades can overcome this drawback by altering the angle of attack, and thus not presenting the full blade width to the log. This is usually not as efficient as multiple notches except with highly angled blades like khukuris. Such chopping also has the wrist in a less than ideal angle usually so is best in short intervals.
A similar technique is to use the tip of the blade to make a cut in the near side and then complete the cut on the far side of the wood, again the cut lines must be very exact. However with most blades chopping is more efficient near the base of the blade. Multiple adjacent notches can also be avoided by walking around the wood or rolling it over. For felling this isn't wise as the fall should be better controlled, and it can be difficult to move logs of significant size.
Regarding technique, the swing used is one which gives maximum performance which can change from light and fast or really heavy depending on the blade and the wood. The grip is also adjusted for maximal performance. The relative chopping ability of some of the smaller knives compare to the Mora 2000 :
The relative chopping ability of some of the larger knives used with the Wildlife hatchet serving as a reference rank of 100 :
The balance point is measured from the guard. For those knives of neutral (0) or handle balance (-) a partial grip around the end of the handle was usually used to shift the relative balance forward to gain power on the swing unless this caused too much loss of control. In general the chopping was done using the grip and region of blade which gave optimal performance. See the individual reviews for more details.
Saws
Saws are also important to consider when thinking of felling and especially bucking so they are often compared to chopping blades and axes. Saws like the Felco with a very coarse TPI work best on very soft wood, which is fresh and require significant downward force to reach maximum cutting ability. Saws with much finer teeth gain litte from heavy pressure and work best in dry hardwoods and gum up far too easily on sappy fresh woods. Aside from speed of cutting and finish, how much stability is required is mentioned as well. The very coarse saws in general need the wood to be held in place very tight to allow optimal cutting ability, whereas the fine saws can cut woods at near maximum ability even while it is just held in hand.
Tip
A vertical stab into a phone book uses the number of pages pierced to measure the performance. The main influence on ability is the taper of the tip. Depending on the design the penetration may be greater if the spine or edge leads the stab. The handle is also critical as if the security is low energy is wasted as the hand slips during the impact. Tip sharpness is very important, if the edge is blunt the paper has to be squashed instead of cleanly cut. The weight of the knife is a also a large factor as heavier blades will allow harder stabs (unless they are too heavy so it depends on the use). This factor can be reduced by scaling the penetration by mass which is done in the final two columns.
Penetration into phone book - vertical stab
Model
Mass
Tip
penetration
rank
scaling
Angle
Taper
grams
Degrees
Inches
pages
ratio
rank
Carter Camp
410
1.2 (2)
1.35
920 (10)
10
2.24 (2)
2
Camp Tramp
390
4.6 (3)
1.50
910 (10)
10
2.23 (3)
2
Vagabond
80
1.3 (1)
3.57
888 (21)
10
11.1 (1)
8
Heafner #17
680
6.5 (2)
1.20
839 (28)
9
1.23 (4)
1
Mora 2000
95
1.6 (1)
1.75
787 (33)
9
8.3 (1)
6
Green Beret
370
5.4 (1)
1.16
764 (26)
8
2.07 (7)
2
Highlander Bowie
380
3.8 (1)
1.88
763 (31)
8
2.01 (8)
1
Becker Bowie
530
748 (10)
8
1.41 (3)
1
TAC-11
400
6.7 (5)
0.84
723 ( 6)
8
1.81 (3)
1
Meadowlark
110
3.6 (1)
0.80
716 (41)
8
6.5 (4)
5
SOG SEAL
345
707 ( 7)
8
2.05 (3)
1
Buck 119
210
2.1 (1)
2.51
701 (35)
8
3.3 (2)
2
Battle Mistress
660
8.7 (5)
0.90
698 (44)
8
1.06 (6)
1
Massey Utility
310
3.0 (2)
1.42
695 (24)
8
2.24 (7)
2
Voyager (medium)
50
2.9 (1)
1.00
689 (21)
8
13.8 (4)
10
Paramilitary
80
1.5 (1)
3.11
689 (16)
8
6.33 (4)
5
Military
122
1.1 (1)
3.74
681 (35)
8
5.6 (3)
4
Persian
160
1.1 (1)
1.10
673 (18)
7
4.2 (1)
3
Deerhunter
65
NA
671 (33)
7
10.3 (5)
7
Small Sebenza
80
3.1 (1)
1.09
664 (26)
7
8.3 (3)
6
Freeouf camp
525
662 (32)
7
1.26 (6)
1
MPK Ti
250
656 (27)
7
2.6 (1)
2
K-2
140
3.0 (1)
1.30
645 (18)
7
4.6 (2)
4
Randall #1
265
2.0 (1)
3.10
640 (15)
7
2.41 (6)
2
Temperance
140
1.1 (1)
4.05
636 (12)
7
4.54 (9)
3
Howling Rat
185
4.6 (3)
1.00
627 ( 8)
7
3.38 (5)
2
Voyager (large)
110
3.1 (1)
1.18
625 (11)
7
5.7 (1)
4
H1
180
5.9 (2)
0.94
619 (33)
7
3.3 (2)
3
Pacific Salt
85
6.5 (2)
0.51
606 (29)
7
7.2 (3)
5
D'Allara
145
4.0 (2)
0.85
606 (38)
7
4.1 (3)
3
Delica (PE)
70
5.2 (1)
0.52
604 (34)
7
8.6 (5)
6
Pronghorn
260
6.3 (4)
0.50
600 (26)
7
2.3 (1)
2
Cuda Maxx
190
1.2 (1)
3.00
595 (10)
7
3.1 (1)
2
Silver Trident
310
3.6 (1)
1.75
592 ( 5)
7
1.91 (2)
1
Safari Skinner
175
1.7 (1)
2.24
590 (27)
7
3.4 (2)
2
Randall #5
265
2.3 (1)
2.82
590 (25)
7
2.2 (1)
2
Manix
180
1.4 (1)
3.25
588 ( 7)
6
3.36 (4)
3
Cara Cara
160
5.0 (1)
0.68
576 (18)
6
3.6 (2)
3
Ontario Rtak
625
1.0 (2)
5.25
568 (12)
6
0.91 (2)
1
Endura (PE)
100
5.3 (1)
0.64
567 (37)
6
5.7 (4)
4
Project I
435
N/A
560 (51)
6
1.3 (1)
1
Point Guard
120
3.0 (1)
1.30
560 ( 7
6
4.67 (5)
3
Agent
140
3.2 (1)
1.26
557 (30)
7
4.3 (1)
3
Blackjack Small
110
2.6 (3)
2.07
544 (44)
6
4.95 (6)
4
M16 (zytel)
170
5.3 (1)
0.73
519 (27)
6
3.1 (4)
2
M60-14NK
270
5.5 (1)
0.87
518 (11)
6
1.92 (4)
1
Ratweiler
540
5.3 (1)
1.33
517 (16)
6
0.96 (2)
1
RSK
105
3.3 (1)
1.04
516 (24)
6
4.9 (2)
4
PAB
500
15.5 (5)
0.45
492 (64)
5
0.98 (2)
1
Fulcrum IID
200
7.0 (1)
1.03
477 (12)
5
2.38 (5)
2
Solution
330
3.6 (2)
1.40
431 (10)
5
1.31 (4)
1
Pelican
163
7.9 (1)
0.45
328 (50)
4
2.0 (2)
2
Recondo
220
321 ( 8)
4
1.46 (3)
1
WB
306
22 (1)
0.32
296 (13)
3
0.98 (3)
1
Vision
85
292 ( 3)
3
3.44 (4)
3
To remove grip factors and the weight of the knife as influences in penetration the knife could be locked in a vice with the tip pointing up and then a phonebook dropped onto the tip under the influence of a given weight from a given height. As an alternative, the knives were pressed into the phone book under a specific weight. This is also useful for blades with slender tips which are too fragile for a stab.
Note as the tip profile is reduced the penetration increases. Some of the above blades don't have distinct tip grinds, so the measurements refer to the entire blade.
Tip strength can be tested by locking the knife in a vice and testing the stiffness and strength. Penetration and strength are often tested together by digging a hole in a 2x4 large enough for the index and middle finger. Using hard stabs and pulls to the side to clear the wood the hole is cleared to the other side at which point the shards are chopped off, the wood flipped and the opening enlarged from the other side. Both the time required and number of stabs needed are recorded. The tip must penetrate well and be strong enough to break out the wood on deep stabs. However a slim point offers maximum penetration but minimal strength and a thick point offers minimal penetration but maximal strength. In general thinner tipped knives penetrate easier and generate a lower rate of fatigue however if they are excessively slender excess care has to be taken when clearing the wood and thus the time is high.
Leverage and thus blade length is not usually a factor as the limit in the torques is the off hand used to hold the board in place. The ergonomics of the handle are not usually of significance as the cutting is short term and not enough to cause significant discomfort. Very slippery handles can reduce the transmission of power on a stab and reduce the performance significantly. As noted earlier, wood is very random even if cut from the same tree. At least a dozen trials are needed for a rough performance estimate. Some of the performances of the blades in the following table were averages (medians) of only a small number of trials (as the tip was damaged) which is why the variance is often so large.
Digging in some 2x4's
Model
Tip
Stock
# of stabs
Time
Angle
Taper
Degrees
Inches
Inches
Minutes
Freeouf camp
NA
0.313
18 +/- 2
2.2 +/- 0.2
Green_Beret
5.4 +/- 0.1
1.16
0.220
22 +/- 4
2.2 +/- 0.4
TAC-11
6.7 +/- 0.5
0.84
0.198
24 +/- 6
2.6 +/- 0.6
Camp Tramp
4.6 +/- 0.3
1.50
0.250
28 +/- 5
3.0 +/- 0.5
Solution
3.6 +/- 0.2
1.40
0.188
29 +/- 5
2.8 +/- 0.2
Battle Mistress
8.7 +/- 0.5
0.90
0.275
29 +/- 13
3.0 +/- 1.1
H1
5.9 +/- 0.2
0.94
0.200
30 +/- 3
3.2 +/- 0.7
Buck 119 (mod)
13.1 +/- 0.1
0.325
0.150
31 +/- 7
2.3 +/- 0.6
M60-14NK from CRKT
5.5 +/- 0.1
0.87
0.165
33 +/- 4
3.5 +/- 0.7
Howling Rat
4.6
1.0
0.175
33 +/- 2
3.2 +/- 0.2
Becker Bowie
NA
0.215
33 +/- 5
3.2 +/- 0.5
Becker CU/7
3.9 +/- 0.2
2.75
0.188
35 +/- 5
2.7 +/- 0.3
PAB
15.5 +/- 0.5
0.45
0.250
34 +/- 16
3.4 +/- 2.0
MPK Ti
NA
0.250
39 +/- 18
4.1 +/- 1.5
SOG SEAL
NA
0.250
46 +/- 5
4.9 +/- 0.7
This work can reveal a lot about the knife besides the strength of the tip, as noted handle ergonomics and security also come into play. For more details on the performance of the blades during the digging check the individual reviews. The tip geometry measurements are not available for many of the above knives as they were frequently not taken before the knives were damaged or modified in the early reviews.
Edge Retention
Edge retention is optimally tested on different materials cutting in different methods with different edge angles and grit finishes as all of these variables will effect the performance of the steelr2. In general blunting follows a simple simple power law equation which can be fit with standard nonlinear least squaresr3. This model was introduced on CutleryScience in August of 2006, edge retention data collected were earlier used less sophisticated methods to interpret the data. As time allows the older data will be fitted to the power law.
manilla hemp
With various knives with edges set at a fine finish from a ceramic rod set at 22 degrees, slicing was done with a two inch section of blade with the rope cut on a plastic cutting board.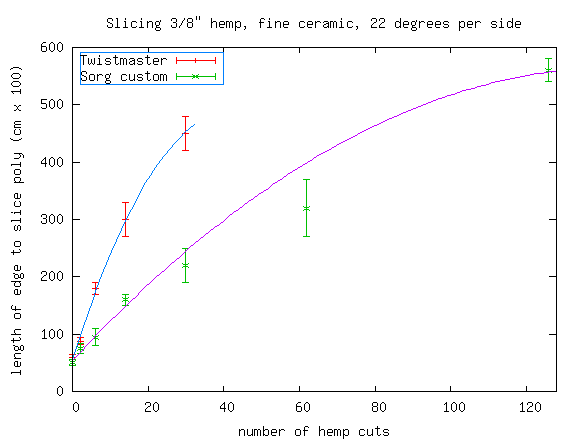 All the blades have similar initial cutting abilities on the hemp. The Twistmaster made from 50100-B at 59 HRC is well behind the D2 custom from Mel Sorg at 62 HRC which is to be expected as the D2 blade is much harder and more wear resistant.
The cutting ability and edge retention is greatly increased with a more coarse finish as shown when knives where sharpened with fine diamond (600 grit DMT) rod at 22 degrees. Slicing was again performed with a two inch section of blade with the rope cut on a plastic cutting board :
The knives all have similar levels of initial cutting ability on the hemp due to similar edge profiles. The Twistmaster made from 50100-B at 59 HRC is matched by the Deerhunter in AUS-8A at 57/59 HRC, and it significantly outperformed by the VG-10 Deerhunter at 60/62 HRC and even more so by the Deerhunter in D2 at 60/62 HC.
In the above only knives which have similar levels of initial cutting ability were compared as it was later determined through comparing various blades that the blade geometry was a significant factor in edge retention as it effected the force required on the cuts and thus heavier cuts were made into the cutting board at the end of the rope cut, this made blades with thicker profiles have a significantly greater rate of blunting. To remove this effect the rope cutting was switched to slicing over a slot cut in a piece of wood with a push used instead of a draw as it is harder to do a draw that way.
A slim carbon Mora, stainless Mora 2000, Spyderco Temperance, Model 10, Rucksack and Pronghorn were used to slice 3/8" hemp with no backing. Multiple runs were made through different rolls of hemp, the numerical results can be seen in the specific reviews. A graphical overview :
The Model 10 showed a fraction of the edge retention of the steel blades. carbon Mora tended to blunt far more rapidly than the other blades which tended to clump togther. The Temperance seemed to have a stronger drop off towards the end which would make sense given it has a higher wear resistance and hardness but this all depends on the placement of the final point. The Rucksack matched the performance of the Temperance which is an interesting considering its composition. The intervals should have been smaller and the cutting repeated to reduce the variance. Similar work was done with a U2 and Voyager with the edge set at 20 degrees with the medium Sharpmaker rods.
cardboard
In cutting cardboard speed of cut is critical to edge holding, specifically faster cutting induces lower edge retention. Push cutting is best done with a high polish and slicing benefits from a more aggressive finish. Recent work on the Southfork, coarse finishes with the CRK&T M16's, a comparison of 420J2, AUS-4A and VG-10, and 12C27m and 154CM shows some results in detail. One of the most comprehensive comparisons on cardboard was done slicing 1/4"doubled layer cardboard on a draw through 4 centimeters of edges with the middle 3 centimeters measured for slicing aggression by slicing light cord under 110 grams of tension. This was mainly to compare ZDP 189 and S30V. The results :
| | | | | | | | | | |
| --- | --- | --- | --- | --- | --- | --- | --- | --- | --- |
| Knife | 0 | 0.25 | 0.50 | 1.00 | 1.50 | 2.50 | 3.50 | 4.50 | 5.50 |
| Rat Trap | 25 (1) | 75 (4) | 105 (4) | 137 (7) | 205 (11) | 260 (14) | 318 (16) | 405 (19) | 490 (20) |
| Manix | 25 (1) | 78 (4) | 110 (4) | 168 (5) | 193 ( 7) | 275 (10) | 325 (10) | 375 (10) | 390 (18) |
| Paramilitary | 25 (1) | 75 (2) | 95 (4) | 150 (5) | 175 ( 7) | 245 ( 6) | 280 ( 8) | 368 (12) | 375 (20) |
| Military | 20 (1) | 70 (4) | 75 (3) | 125 (5) | 140 (11) | 195 ( 5) | 235 ( 8) | 275 ( 9) | 325 (14) |
| Delica | 25 (1) | 60 (5) | 75 (3) | 118 (5) | 138 ( 6) | 183 ( 5) | 250 ( 7) | 295 ( 9) | 350 (15) |
| Jess Horn | 23 (1) | 53 (4) | 80 (4) | 125 (4) | 133 ( 5) | 160 ( 4) | 213 ( 6) | 248 ( 9) | 243 ( 8) |
| Calypso Jr. | 23 (2) | 45 (4) | 70 (2) | 93 (6) | 113 ( 6) | 135 (11) | 188 (21) | 233 (18) | 240 (18) |
The performance of the S30V blades :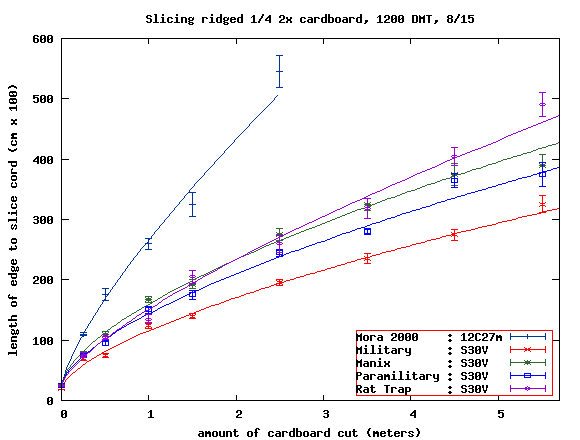 The performance of the ZDP-189 blades :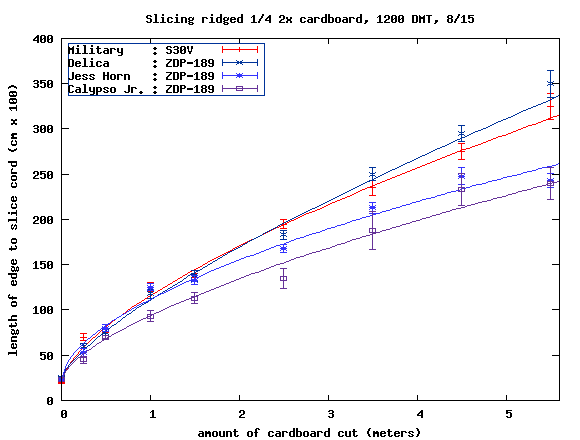 Which gives the following coefficients:
| Knife | A | B | C |
| --- | --- | --- | --- |
| Mora 2000 | 241 (8) | 0.76 (3) | 25 (2) |
| Rat Trap | 126 (5) | 0.73 (3) | 25 (2) |
| Manix | 135 (3) | 0.63 (2) | 25 (1) |
| Paramilitary | 119 (5) | 0.64 (2) | 25 (2) |
| Military | 96 (4) | 0.65 (3) | 20 (2) |
| Delica | 86 (3) | 0.75 (3) | 25 (2) |
| Calypso Jr. | 71 (3) | 0.66 (4) | 23 (2) |
| Jess Horn | 89 (5) | 0.57 (4) | 23 (2) |
Compiling all the results produces :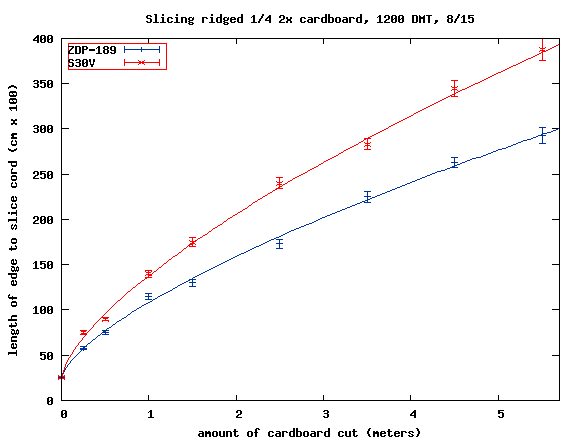 Which gives the following coefficients:
| Steel | A | B | C |
| --- | --- | --- | --- |
| ZDP-189 | 83 (2) | 0.69 (2) | 25 (1) |
| S30V | 113 (3) | 0.68 (2) | 25 (2) |
Since the power coefficients (B) are the same which seems sensible given they are both high carbide steels, the ratio of the edge retention coefficient (A) indicates that ZDP-189 has a 36 (5) advantage in sharpness over S30V after a given amount of cardboard was cut.
carpet
Both old and new carpet can be used to examine edge retention. New carpet is fairly abrasive depending on the type while used carpet is tremendously abrasive due to the dirt and grit and due to the random distribution of the dirt it isn't possible to compare the performance of one knife to another on different pieces of used carpet however a constant reference knife can be used to allow such comparisons. To minimize the the random deviations in any single piece of carpet, vary the locations used with each knife during the cutting, and of course repeat the cutting.
The following shows some carpet cutting with a few blades with the initial edges set with a 600 grit DMT rod set at 22 degrees. A number of two inch cuts were made with each blade. The extent of blunting was examined by the sharpness on a slice tested by cutting 1/4" poly under various amounts of tension. Since the blunting was very rapid and extensive, heavier weights had to be used to increase the tension in the poly to enable it to be cut . After the cutting then blades were give a light honing of five passes per side on the same rod again set at 22 degrees and the sharpness again checked to show the influence of grindability on ease of sharpening.
edge retention on used carpet sharpness checked by slicing 1/4" poly
# cuts
0
1
3
7
15
honed
Tension
1000 g
1100 g
2300 g
1000 g
Wilson : CPM-10V
0.90 ( 4)
1.07 (21)
1.75 (19)
1.38 (32)
2.95 ( 11)
1.45 (11)
MEUK : 52100
0.75 ( 9)
1.10 (13)
1.95 (19)
1.55 (8)
4.50 ( 83)
1.25 (19)
Rucksack
0.75 (12)
1.50 (25)
2.75 (26)
2.62 (36)
5.75 ( 51)
2.00 (30)
Fowler : 52100
1.00 (16)
1.20 (16)
2.50 (49)
2.25 (26)
7.00 (1.07)
2.25 (15)
Model 10 : LM1
0.80 ( 4)
1.18 ( 4)
2.62 (13)
2.55 (30)
7.50 ( 93)
N/A
The custom from Phil Wilson in CPM-10V showed clear superior edge retention which isn't surprising at it has the hardest blade (62/63 HRC) and has very high wear resistance steel. The custom MEUK in 52100 is also significantly harder than the Rucksack. The last two customs were very soft and thus the edges rolled far more readily than on the other blades. After the honing, all blades were within a significant percentage of the initial cutting ability. Note though the Rucksack was far blunter than the CPM-10V custom after the carpet cutting, it responded faster to sharpening. This advantage in grindability was not enough to overcome the greater blunting, but did counteract that disadvantage to a significant degree.
After one more round of the same sharpening, The MEUK and CPM-10V custom would be almost perfect, showing almost no reflection under the light (less than three millimeters out of fifty), and cutting the poly at levels not significantly different than when freshly sharpened. The Rucksack was slightly worse. After five more similar sessions the Pronghorn was still reflecting light, though the damage had been cut in about half. After the light honing, the edges were reset with a 1000 grit AO waterstone (1x4"). After two minutes of honing, there was no secondary edge bevel with just hints of imperfections remaining under 10x magnification (at the limit of resolution). The honing was repeated for another two minutes to ensure removal of any weakened metal before each additional round was performed.
More work on another less abrasive piece of carpet :
edge retention on used carpet sharpness checked by slicing 1/4" poly
# cuts
0
1
3
7
15
Tension
1000 g
1100 g
2300 g
Temperance
0.83 (5)
0.97 (8)
1.52 (10)
1.40 (13)
2.45 (30)
Military
0.85 (3)
0.82 (7)
1.65 ( 7)
1.40 ( 8)
2.60 (12)
Mora 2000
0.78 (5)
0.81 (5)
1.50 (21)
1.50 (13)
2.75 (43)
Mora #1260
0.75 (6)
0.93 (9)
1.90 (17)
1.60 ( 8)
4.20 (75)
As this was a less abrasive piece of carpet, the results were more uniform, note the smaller variances (three run sample) compared to the first table which compiled more runs to reduce the uncertaincy. In this case there was no significant difference in any of the stainless steel blades; and all had a significant advantage compared to the carbon steel Mora due to the higher hardness and wear resisance. During the cutting the edges were checked under a light for extent of reflection, and after under magnification to examine extent of damage. The damage seen correlated well to the extent of blunt as indicated by the poly scores. In general, the edges took damage of 0.1 to 0.2 millimeters in depth (0.004 to 0.008").
This damage was of a few forms; half circles (not very aggressive), triangular (aggressive), hooked (very aggressive). While increasing aggression these "micro-teeth" degrade push cutting ability. A more complete picture of edge retention would be obtained by examining push cutting sharpness periodically. The knives took on average two minutes on a 200 grit SiC hone to remove the secondary edge bevel and reset the edge. The edge was refined on a 1000 and 4000 grit waterstone (again about two minutes), before applying another micro bevel with the DMT ROD.
Another large round of carpet cutting was performed in late 2005 which contrasted the performance of a custom paring knife made from 1095, custom utility knife made from O1, a UK Pen knife, a S30V folder from Spyderco, the same small Mora in carbon steel, a custom hunting/utility knife made from CPM-10V a K2 from Bob Dozier. Some specifics on the knives :
specifications
Knife
steel
hardness
edge bevel
width
angle
primary
secondary
Coyote Meadow
10V
62.5
0.058
5
10
Utility
O1
63.5
0.120
4
8
Paring
1095
66
0.105
5
7
K2
D2
60/61
0.035
16
16
UK Pen
S30V
58/60
0.050
13
14
Cara Cara
8C13CrMoV
61
0.070
10
11
Mora #1260
carbon
fifties
0.232
11
12
The knives are in two rough groups based on a large difference in hardness and edge profile. There isn't much known about the puukko material wise aside from the fact that it is a carbon steel. The knives were all honed to a fine finish ending with a light stropping on CrO loaded leather. There were two rounds of cutting, 100 slices, and then 175 for a total of 275. The sharpness was measured by cutting 1/4" poly under a 10 lbs load. Multiple rounds of cutting were performed for each length and the average is presented below.
The performance was consistent across the runs with the average uncertainty being about 10 precent. The difference in the CPM-10V and O1 knife was large enough to notice just by feel with a few slices into the poly, the 1095 blade was close to the O1 knife, in general it would seem more work would need to be done to really push the blades apart. The latter three knives are made from much softer steels with thicker edges and the cutting ability and edge retention was in another class.
Though the CPM-10V, O1 and 1095 knives are quite hard and the carbide content of 10V is also exceptionally high, they all sharpen efficiently as they suffer little damage during the cutting and the edges are very narrow. The Pukko was by far the longest to sharpen as it wore significantly during the cutting and the very wide bevel made it require much more steel to be removed which lead to it requiring the longest sharpening time by a factor or often more than two to one over the other blades.
The amount of force used during the carpet cutting was just enough to prevent slippage which insured the same amount of carpet was cut with each blade (normalizing with the blade length). If the thinner and harder customs were used with the same force as the other blades they would cut much more carpet. The slicing was also done with a push into the carpet and the blade lifted away from the carpet after the sliceto mimize the grating against the material.
In regarding the measure of sharpness, the edge profiles on the thinner blades enhances the performance on the poly by increasing the amount of the tension which is applied compressively, however this isn't even the same magnitiude as the difference between the blades and when all blades are equally sharp they all cut the poly at near identical levels. The blades were also checked for a responce to steeling, and all showed a significant improvement, many to one, the blades which responded the best also had the best overall performance confirmation of less wear.
While the Cara Cara's straight edge section did marginal, coming in just behind the other two stainless blades, the serrated section did exceptionally well. Note however that this result is somewhat misleading because while the blades all cut the poly under the same tenion, it takes more force to pull the serrated section through the cord horizontally. This is one of the main advantages of serrated blades, they will translate a pull into a push and in most cases, a person can pull back far more than they can push down with their arm, many to one times greater, and thus this is a very efficient trade.
Each blade was used for 3-4 rounds of cutting to generate a fairly stable average, with the exception of the O1 blade which was used as a benchmark to check the consistency of the carpet and thus it did more rounds than the other blades. This did lead to quite a pile of carpet strips, the result of just one round with a few of the blades. Carpet cutting has been done on many occasions with blades made out of similar steels, the results are consistent with the above, for example during an evaluation of the Paramiliary in S30V it was compared to various other stainless steels and again D2 from Bod Dozier : ref.
In general whittling or slicing wood is is soft and not abrasive and thus a lot of wood cutting has to be done to check edge retention unless sharpness demands are very high. Early tests done on wood revealed the same pattern of nonlinear blunting as seen on other materials, but it is very slow to induce. Chopping hard woods however can induce blunting very fast on steels either through chipping or rolling.
In general, knives with the least damage require the least honing time as blunting in general is just the edge getting damaged. A knife will sharpen easily when the blade material has the necessary :
hardness to prevent deformation
toughness to prevent fracture
corrosion resistance to prevents rust
wear resistance to prevent abrasion
and highest grinability possible while maximizing the above properties in order of importance for the type of use of the knife so as to minimize damage to the edge. For example , a salt water fillet knife would need a very high corrosion resistance to minimize rusting, hardness to reduce edge deformation and wear resistance to conserve the edge against abrasion, with little use for impact toughness. However a large wood cutting blade has little need of corrosion resistance and needs a high impact toughness to handle the constant heavy shocks and prevent fracture on occasional heavy impacts. A decent hardness is also necessary to keep the edge crisp and prevent excessive denting on a hard hit, however wear resistance is of little use.
Serrations
There are two main types of serrations, smooth and flowing such as used on Mission MPK or the SpyderEdge used by Spyderco, and chisel pointed tips as found on the Green Beret and TUSK. The chisel pointed types have a high durablity and can be sharpened in line with the rest of the edge however they tend to simply tear or rip material apart. They work best on hard plastics and soft metals (ref 1,2). The more fluid patterns cut much better on the vast majority of materials however they are more difficult to sharpen in comparison to the chisel tipe and will get damaged easier in heavy impacts. The really pointy patterns such as used by Sog done cut well and are difficult to sharpen. If there is a serrated section of blade, much of the cutting work is duplicated to contrast the performance to the plain edge with a variety of finishes.
Handle
A handle should allow a secure and comfortable grip, efficiently transferring the force applied from the handle to the material being cut. In general, most grips are comfortable and secure when doing light cutting with an uncompromised grip. Heavy cutting with the handle lubricated with heavy sweat, blood or some kind of oil / fat, can show different performance.
Handles can also be examined for durability, both to abrasion, cuts, puncture and impacts. The conductivity to temperature and electricitity can be important to some, and in extremes issues are often raised about exposure to fire. Recent work done by STR have shown that paper, linen and canvas micarta show little issues with soaking in gasoline even for 12 days and when exposed to flame just flare and won't sustain a flame. This confirms earlier work personally done on a MEUK grip.
To examine security, locks are generally exposed to white knuckling, spine whacks, and torques. Some are also examined for gross strength by hard batoning, a use promoted by some survival knives including the RSK by its designer Doug Ritter such promotion was published in Blade magazine. Some do note that even chopping is abusive to folders while other like Ritter contend that even batoning isn't abusive. The nature of the folder needed to be considered of course.
Sheath / carry
There are three main classes of sheaths, Kydex, Leather, and Cordura/Kydex. Kydex is abrasion, cut and puncture resistant and strongly resists chemical attacks however gets brittle when cold and deforms when hot. Leather has a high resistance to fracture from impacts or distortion and is not significantly effected by extreme temperatures but is easier to abrade, cut or puncture and rot compared to Kydex. Cordura sheaths with Kydex liners have properties of both systems but can suffer from machine stitches fraying. All sheaths can give a tight fit to the blade and can offer secure retention without straps, though Kydex is superior in this regard as it is much stronger than even the stiffest leather. Contaminants in a Kydex sheath are more likely to scratch the surface of the blade than in leather sheaths though Kydex sheaths are easier to clean out. Leather however can hold oils to help protect the blade.
Hard impacts and other demanding work
In general, unless the user is very skilled and exceptionally careful it is also near impossible to prevent damage from accidental high stress impacts and intentional impacts allow direct comparions of such situations in a semi-controlled manner as if a knife accidently hit a nail in a 2x4 a few months ago it is difficult to compare a recent contact off of a rock covered by brush. One of the most infamous evaluations of knife toughness is chopping into a concrete block which is done by several makers. Jimmy Fikes pounds the tip of a tanto through a concrete block on a blade testing video. Lynn Thompson used a Trailmaster as a hammer smashing concrete blocks with the spine in the first Proof video. The concrete block chopping was performed in the reviews on suggestion from Ray Kirk for his ABS bowie. Darrell Ralph also promoted such a testing medium used by himself as well as duplicated by others. It has been done in public live by a representative from Swamp Rat knives a the Blade show. For similar reasons Rob Simonich used a Raven to cutting a piece of tension bar in half using a hammer on the spine of the blade. The knife cracked in half during the second attempt. This was published in Blade magazine.
r1 : Cliff Stamp, Measures of Cutlery Sharpness, cutleryscience.com, 2006.
r2 : Cliff Stamp, Edge Retention (review), cutleryscience.com, 2007.
r3 : Cliff Stamp, Modeling Cutlery Edge Retention, cutleryscience.com, 2007.
r4 : Cliff Stamp, Sharpness and Cutting Ability : Manila Rope, cutleryscience.com, 2007.
---
---
| | | |
| --- | --- | --- |
| Written: Aug. 2001 | Updated: Aug. 2007 | Copyright (c) 2001 - 2007 : Cliff Stamp |
---