Differences in edge retention as a function of the harshness of the material cut
---
Introduction
In general the edge retention of a knife, or how fast it dulls is caused by a mix of :
deformation
fracture
wear
corrosion
As the extent of these effects is dependent on different properties of the steel it is possible to have vastly different edge retention in different materials. In order to explore this difference a selection of materials was cut with two steels which in several respects are in the extreme end of material properties for steels.
Method
The two knives used :
15N20 : mini-Peasant (Svord) (samples HRC tested at 52 to 54 HRC)
10V : K2 (Spyderco) (samples tested at 62/63 HRC)
In terms of general material properties :
15N20

advantage in fracture toughness and grindability

10V

large advantage in wear resistance,
significant advantage in compressive strength
small advantage in corrosion resistance
In terms of general method :
edges were 6-8 dps
apex bevels at 15 dps with a fine DMT (25 microns)
sharpness measured cutting Bergia spinning thread under 35 grams of tension
sharpness statistic was the TCE, stopping point was 1.5% of optimal
weighted statistics were used
Three different materials were used :
new hemp, clean, not very abrasive
used cardboard, fairly abrasive
used/ditry polypropylene, very abrasive
Results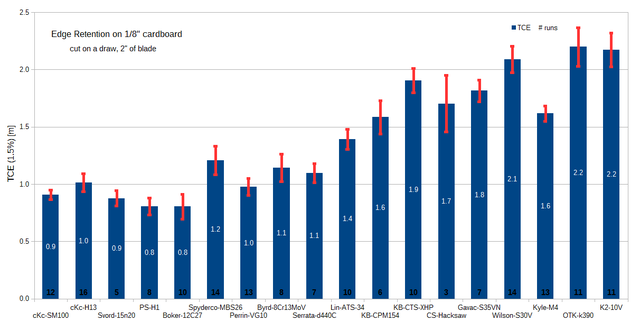 On the cardboard, the comparison was over a wide variety of steels which showed a few general trends :
edge retention increased with increasing hardness and carbide volume
edge retention started to appear to plateau above S30V class steels
Focusing on 10V and 15N20 in the two knives being compared specifically the results favor 10V and are statistically significant with an approximate ratio of :
The material was harsh enough to cause blunting by a mix of :
deformation
fracture
wear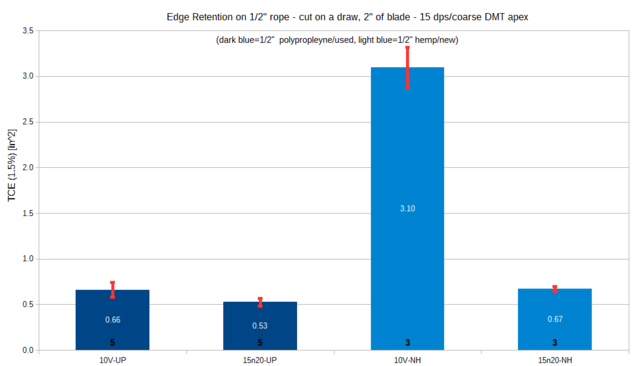 On the ropes, a more focused comparison was done on just the two knives being specifically compared. The results changed significantly depending on which rope was cut. The advantage in both cases was to 10V however the magnitude changed significantly from used polypropylene to the new hemp :
used polypropylene = 25 (19) %
new hemp = 361 (37) %
On the used rope the blunting was quite severe and happened mainly by :
In this comparison there was no significant difference in the edge retention of either steel. However on the new hemp there was very little deformation and fracture and blunting took place mainly by slow abrasive wear.
Note the images to the right of the 10V blade after one of the used polypropylene rope and see :
significant small micro-chips in one image
the entire apex cracked off (to the right of the arrow) in another
When blunting is taking place by fracture to this extent then the higher hardness of 10V and the higher wear resistance is having very little effect because blunting is taking place by a completely different mechanism. As 15N20 has a higher fracture toughness then it can greatly compensate and almost equal 10V in edge retention slicing the rope.
Discussion
Over the range of materials used the edge retention advantage of 10V over 15n20 changed significantly. As the materials got more harsh as they were used/dirty then the edge retention advantage was minimized. In general, because edge retention depends on many material properties, the nature of the material cut is critical to the edge retention performance of a steel.
Recap
More extended commentary can be seen in the forum thread :
References
---
---
| | | |
| --- | --- | --- |
| Written: 30/07/2015 | Updated: | Copyright (c) 2015 : Cliff Stamp |
---